K-Laser is excited to announce the introduction of their newest therapy laser ….. The H1. Specifically designed for more of the entry level laser user that is not interested in spending lots of money to add the amazing capability of therapy laser to their practice. The H1 will still outperform almost every laser offered by our competitors including Companion and Sound. With a $21,900.00 MSRP it is aggressively priced.
The specs. of the H1 are quite formidable: (Literature attached (including a complimentary carry case))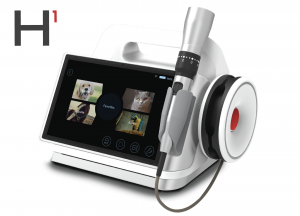 Wavelengths: Three (3) ….. 615, 810 and 915 nm
Power: 15 watts CW;
Pulsing: 1 to 20,000 Hz and Super Pulse
Software: Android based, 7 inch HD touchscreen, Wifi enabled, on-board programs
Battery: Portable, 1 hour use time, 4.4 lbs.
Warranty: Three (3) year, Lifetime laser diode warranty
You also get "Best in Class" Spectrum Support Program after- the-sale support. K-Laser provides on-staff D.V.M. clinical support along with unlimited, no-cost, RACE approved CE credit on-line certification.