We are pleased to announce the launch of the brand new Olympic Ultrasound Table, the only purpose-built veterinary ultrasound table.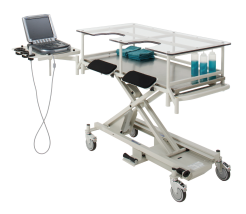 This product has been 5 years in the making and provides the utmost in user comfort, convenience and safety. You will find a full Product Detailer attached along with a general catalog and a price list. The Ultrasound Table comes complete with everything shown in the picture below (minus the ultrasound swing arm, the towels and gel bottles) as Model #50790. The swing arm with probe holders is sold separately and drops in to sockets on the left and right sides of the table (to accommodate left and right handed users) and is available as Model #50791. We also offer an optional LED dimming spotlight that plugs into the unused socket. This is Model #50792. Prices are as follows:
50790 Olympic Ultrasound Table™. Height-adjustable table with removable ultrasound table top with cutouts and filler blocks for patients of all sizes. Includes 2 pivoting arm rests with gel pads and a table-top soft mat (not shown). MSRP – $7,795.00
50791 Ultrasound Swing arm with 3 probe holders. MSRP – $585.00
50792 Drop-in LED Gooseneck Spotlight for Ultrasound Table. MSRP – $645.00
Special introductory Price – Orders for #50790 received prior to 8/31/19 will include a free Ultrasound Swing Arm (#50791) at no additional charge.