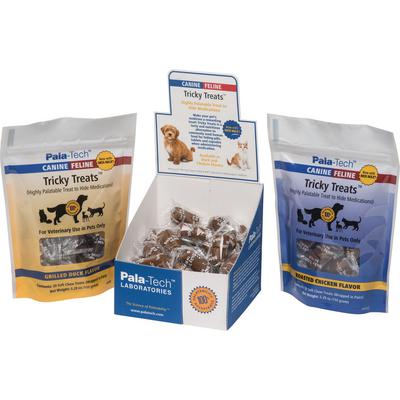 It has been confirmed that Mars and Covetrus are having supply issues with Greenies Pill Pockets resulting in backorders for several of this product's SKUs. Therefore, clinics that have been using Pill Pockets are looking for an alternative…Tricky Treats w/ MOS MAX.
Pala-Tech has plenty of inventory for Tricky Treats w/ MOS MAX, so you will be able to deliver a superior product to your dog and cat owning clients. Attached is a comparison chart illustrating the many advantages of Tricky Treats w/ MOS MAX. Tricky Treats is a much safer product for the clinic to use with all pets…i.e. both flavors are hypoallergenic, significantly lower sodium levels, less calories, etc.
With the addition of MOS MAX, these treats can now be used for so much more than just hiding medications. MOS is a prebiotic for the management of GI issues such as bacterial infections and to boost the pet's immune system. You can order these brochures from Pala-Tech's website under the new Clinic Resources tab or you can call their office at 1-888-337-2446 to request this value-added marketing literature.