I am excited to announce that Patterson Vet has entered a reseller partnership with Veteos to resell their Veteos On-Demand custom video subscription services. No matter how busy a practice is client education and engagement should never be ignored! It is an important key to improving pet health care and client loyalty! Our friends at Veteos have developed a turnkey custom video service that allows practices to have a custom branded video within a few hours. 
Starting Thursday April 1, 2021, we'll be offering an exclusive Introductory Offer for customers. During the entire month of April, new users will receive their first month Veteos On-Demand FREE – a $99 value that includes 3 video credits equal to the basic subscription plan! Be sure to reference the promo code VETEOS21 when getting your customers started. We encourage you to work directly with the TS in your territory for demos of the platform, to help answer any questions you may have or to show prospective customers how easy it is to customize video content to individual practice needs!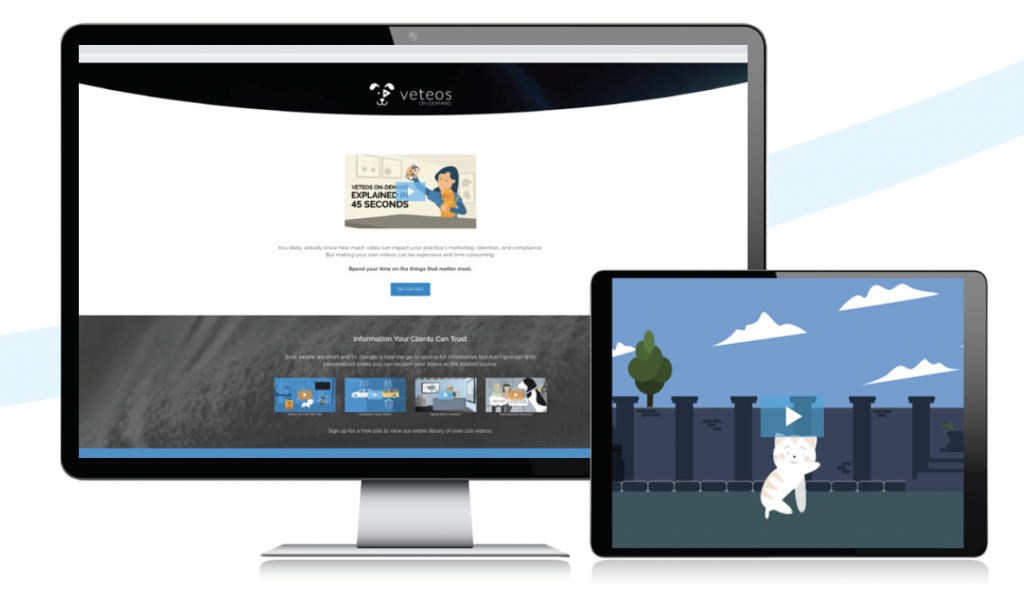 DID YOU KNOW?
In 2020, 92% of marketers said that video is an important part of their marketing strategy.*
People will spend 100 minutes a day watching online videos in 2021.** ❗
It cannot be denied that video usage will only increase in years to come. In the past creating professional and engaging veterinary video content has only been accessible to veterinary practices via costly custom video production companies. Veteos On-Demand gives our customers access to a large variety of engaging, practice-branded content in a budget friendly subscription service. Additional features include Facebook posting, personalized videos and waiting & exam room feeds (for a post Covid world 🙂)
Veteos On-Demand is a Market Hound integrated partner allowing Patterson customers to sign up and sign in using their Market Hound account. Veteos On-Demand subscription services are billed on a customer's Patterson statement and are VPS technology credit eligible. View the explainer video above and then visit our website for more information. Contact me to set up a technology specialist for a demo!