Sharing some information with you on the new Imagyst in house fecal analyzer.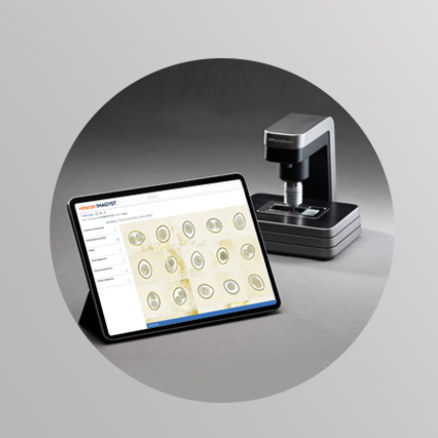 https://www.vetscanimagyst.com
The New In-House Fecal Analyzer uses the fecal centrifugation method to bring clinical pathology to the point of care. The IMAGYST recognizes through Artificial Intelligence, parasite eggs/cyst and oocysts of Hookworms, Roundworms, Whipworms, Coccidia, Tapeworms and Giardia.
IMAGYST empowers veterinarians to diagnose and treat in the same visit, increasing compliance and eliminating follow-up calls and appointments.
The IMAGYST system is composed of 3 elements
1. Sample preparation device
2. Automated scanner
3. Data analysis by Artificial intelligence
You said that you were a tech and interested in ease of use and workflow. Here's how it would look for a clinic:
A tech takes 1 gram of feces and centrifuges it for 2 minutes. The sample prep time with our specific collection device a total of 3.5 minutes.
The sample is placed onto a slide. This slide is specific as it allows for two optimal depths for parasite detection and for a complete scan.
The tech can walk away and allow the IMAGYST to incorporate its AI usually taking around 10 min depending on the internet speed. The deep-learning objective detection algorithm with the specialized fecal sample preparations provided a fecal examination result with images in 15 minutes while only taking up 5 minutes of the tech's time.
The IMAGYST automatic scanning and AI reduces the time needed to complete a fecal floatation and allows techs to focus on the patients. As well as provides images to increase compliance of pet owners.
Promotional pricing is $15,000 ($7,000 off list price) but supplies are limited.
Leasing with Great America is the best option as it includes an extended warranty. They can lease for 60 months ($335 per month) or 48 months ($394 per month).
Additionally 2 boxes of 40 test kits for each will be included at no cost to start
1 box Fecal parasite – Sugar solution – 40 tests in a box $480
1 box Fecal Giardia Kit – Zync Solution – 40 tests in a box $480
They sign up this year, they will get a $80 rebate each time they order a box for 24 months. (An additional benefit of financing with is the tax write off: section 179 deduction for medical device spending in 2020.)
Evaluation of the Vetscan Imagyst (White paper)